Okay, so coffee can sometimes get a bad wrap health wise but the truth is, there are many health benefits related to coffee consumption.
Coffee is the OG of caffeinated beverages and unlike those sickly sweet, caffeine loaded energy drinks guzzled by some overworked, under-rested stamina seekers - Coffee actually has health benefits.
We're here to tell you exactly what they are because while coffee is a #reallycooldrop, it also tops the charts of healthy bevvies.
Energy & Brain Function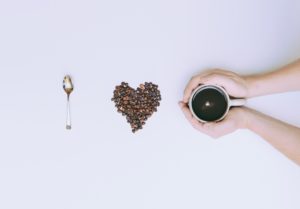 Coffee is widely known to increase energy levels1, or oomph levels as we like to call them here at Premiato.  The caffeine content of coffee is to thank for these anti-lethargy effects2.  A stimulant in nature, once caffeine is consumed, it is absorbed into the blood and sent to our noggins.  When caffeine has reached the brain, it blocks (long words alert) an inhibitory neurotransmitter known as Adenosine.  This leads to the increase of neurotransmitters like dopamine 3, which in essence, produces happiness hormones.
So there you have it.  Coffee makes you happy.  Science.
Coffee has also been found to improve memory and mood as well as overall brain function.  While these effects are not necessarily the same for everyone, we think they're a pretty cool health benefit and one that has us reaching for another cup of the good stuff.
Diseases
Another fun health fact about coffee is that research shows it can decrease the risk of certain diseases and illnesses.  Studies have found that coffee drinkers' risk of Diabetes II is lowered by up to 67%5. Phoar!  The risk of having Alzheimer's and Dementia are also said to be related to drinking coffee.  While keeping active and eating well are, of course, other contributing factors, studies have shown that coffee drinkers also have up to 65% less risk of developing Alzheimer's and Dementia6. Furthermore, caffeine's effect on dopamine levels is said to reduce the risk of developing Parkinson's Disease in avid coffee gulpers7. This has been proven over many studies with subjects including non-coffee drinkers and even decaf drinkers8  yet overall, coffee drinkers were privy to the most health benefits.
Physical Performance
Training for a marathon?  The health benefits of coffee could help you get there.  Stimulating the nervous system and helping the body break down fat cells, as well as increasing adrenaline levels essentially sends the body into fight or flight mode4.  Kick start your fitness finesse with more inner fuel and enjoy the benefits of higher oxygen levels during exercise with coffee.
Dietary Bonuses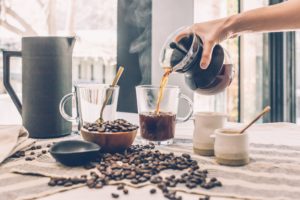 Containing important nutrients like Magnesium, Riboflavin, Manganese, Potassium and Pantothenic Acid to name a few9, coffee is as nutritious as it is delicious and if you want to get technical, a Long Black or Espresso cup of coffee contains just two calories.  Of course, milk and sugar can significantly increase these numbers, but you're still waaay better off pouring a brew than swigging a bubbly soft drink.
Antioxidants
Studies have concluded that more antioxidants are consumed from coffee than fruit and vegetables combined10.  Let's just sit on that for a moment.  This is ha-uge.  In fact, coffee is said to be one of the healthiest aspects of the western diet11. Typically, dark organic coffee's are said to have the highest levels of antioxidants to neutralise free radicals and protect the body12.
So there you have it, our top 5 health benefits of coffee!  Did you know that coffee could benefit your body in these ways?  Do you have a favourite health benefit of coffee you'd like to tell us about?  Let us know in the comments below and feel free to click in the link below to view the reference list for this article.
Reference
Contact us
If you are in the hospitality business and are interested in trying our award-winning coffee, without any lock-in contract, get in touch today!
Call John on 0435 418 369 or email on [email protected]
You are welcome to call in for coffee beans, but please call ahead on 0435 418 369 to make sure we are at the roastery.
6/179 Currumburra Rd
Ashmore, QLD, 4211